Reader Poll: Clinton Favorite Modern U.S. President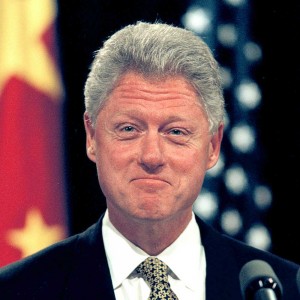 It was extremely close, but in the end Bubba beat Dutch.
In honor of President's Day, we asked our readers who their favorite modern, post-WWII President is.
Bill Clinton narrowly edged out Ronald Reagan 307 votes to 306 votes.
The current President, Barack Obama, came in third with 151.
Next came John F. Kennedy and George W. Bush, who received 109 and 108 votes respectively.
Sixty-six respondents chose Harry S. Truman as well as Lyndon B. Johnson.
They were followed by Dwight Eisenhower who was supported by 47 readers and George H.W. Bush and Jimmy Carter who won the support of 24 readers each.
At the bottom, Richard Nixon avoided infamy with 15 votes while his successor Gerald Ford came in last with 13.
The full results are included below:
Who is your favorite modern U.S. President?
Bill Clinton (25%)
Ronald Reagan (25%)
Barack Obama (12%)
John F. Kennedy (9%)
George W. Bush (9%)
Harry S. Truman (5%)
Lyndon B. Johnson (5%)
Dwight Eisenhower (4%)
Jimmy Carter (2%)
George H.W. Bush (2%)
Richard Nixon (1%)
Gerald Ford (1%)

Loading ...