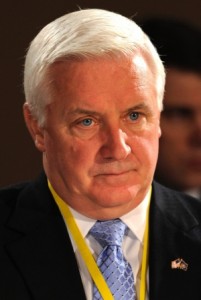 Governor Tom Corbett didn't help himself with his budget maneuvering.
At least that's the verdict of our readers after the Governor deliberated over whether to sign the budget for ten days.
Corbett finally decided to sign the document into law although not without vetoing some funds that were appropriated for the legislature.
In the midst of the pension reform stalemate, we decided to ask our readers if they felt this would help, hurt, or not affect the Governor's re-election chances.
364 readers said they believed his actions would hurt his campaign while 301 responded that it would not matter.
Just 158 asserted that all this would help Gov. Corbett's quest for re-election.
The full results are included below:
Will Corbett's Decision to Delay Signing the Budget Help or Hurt His Re-Election Chances?
Hurt (44%)
It Won't Matter (37%)
Help (19%)

Loading ...