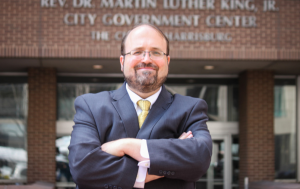 Harrisburg Mayor Eric Papenfuse is approaching the end of his second year in office.
As a result, we thought now might be a good time to test how our readers rate his performance.
We've done this before with quite a few Keystone State officials.
It went well for some, like Pat Toomey, Eugene DePasquale and Philly Mayor Michael Nutter.
Some others, such as Kathleen Kane, Tom Wolf, Bob Casey and the entire state legislature didn't do as well.
How will Mayor Papenfuse do?
Do You Approve or Disapprove of Mayor Eric Papenfuse's Job Performance?
Disapprove (65%)
Approve (35%)

Loading ...