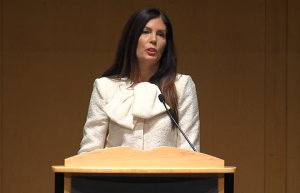 We are just a week away from the start of Attorney General Kathleen Kane's trial.
The AG is facing twelve counts, two counts of perjury as well as ten misdemeanors. Those misdemeanors include: three counts of official oppression, three counts of conspiracy, two counts of false swearing and two counts of obstruction.
Since the trial is sure to be followed throughout the commonwealth, we wanted to get a sense of how our readers felt before it started.
Then perhaps afterwards we could ask again and compare the results.
So, dear readers, let us know what you think.
Do You Believe Kathleen Kane is Guilty or Innocent of the Charges Against Her?
Guilty (71%)
Innocent (29%)

Loading ...