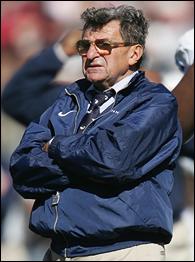 Kathleen Kane's long-awaited report was finally released last week and while many have argued over the political implications concerning the Attorney General and the Governor, lost in this discussion is the fact that this effectively marks the end of the Jerry Sandusky episode (at least as it concerns PA politics).
Governor Corbett gave a long interview to the Associated Press where he was asked about the man whose legacy was most impacted by the scandal, long-time PSU head football coach Joe Paterno. The Governor offered what seemed to be his final take on the situation.
"When they were talking about the whole thing I said, 'You've got to remember the children,"' Corbett said. "Since that date the only thing I have said about Joe Paterno is I've quoted him. As he said, I wish he would have done more. I've not condemned, one way or the other, never have, never will. These are unusual circumstances."
Paterno was a highly-respected and highly-influential figure at Penn State, where he served as a coach from 1950 to 1966 and as head coach from 1966 to 2011 when he was fired shortly after the indictment of Sandusky, his former Defensive Coordinator.
The coach came under severe criticism when it was revealed that QB Coach Mike McQueary informed Paterno in 2001 that he witnessed Sandusky abuse a child in the school's locker room showers. Paterno informed the school's athletic director about this, but not the police.
Additionally, the Freeh report discovered e-mails that indicated Paterno knew of the 1998 allegations against Sandusky, of which he previously denied knowledge. Sandusky retired shortly after those allegations but maintained connections, and access to, the university.
Paterno died shortly after he was fired by the Board of Trustees and PA citizens have been divided over his legacy ever since. Some believe he has been unfairly scapegoated for behavior he was never involved with while others believe he deliberately covered up his former colleague's crimes.
So, we ask you our readers, do you approve of Joe Paterno's conduct concerning the Jerry Sandusky scandal?
Do you approve of Joe Paterno's conduct concerning the Jerry Sandusky scandal?

Loading ...