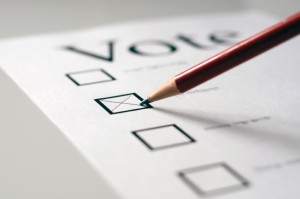 In the event that you're not a voter who chooses a candidate by the quantity of their yard signs you see on the way to the polls, we want to know how you're going to make your decision in the primary.
The Democratic field for the governor's race is immense, and with 8 candidates already, there are many factors to consider but now that Governor Corbett has a primary challenger, Republicans can play too.
One way to choose a candidate is by their policies or ideologies. Candidates with legislative voting records or executives that have successful policies under their belt are easy to measure in this category.
A less scientific decision-maker could be personality. Voters may want an executive who is charismatic, a good communicator and approachable or someone who is more reserved.
Endorsements are also important to some voters who want to see what groups and organizations back a candidate. The support of activist groups and labor organizations is a good way to see what a candidate's future policies may be.
Geographic representation can play a factor in voter's decision making. Perhaps you think that a governor from your hometown would better represent your interests than one from across the state.
Another concern is elect-ability in the general. Your initial favorite candidate may not have the statewide appeal, but would that change your pick?
Finally, there is money. A candidate who is able to raise a lot of money in a primary race may have a leg up in the general election. While you can't necessarily buy an election, you can buy large quantities of advertising.
Tell us how you'll make up your mind here:
What is the most important factor in picking your governor candidate?
Policies and Ideology (66%)
Electability (26%)
Personality (4%)
Geography (2%)
Money (2%)
Endorsements (1%)

Loading ...