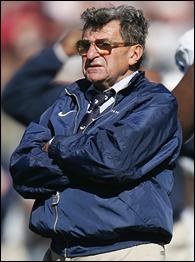 Joe Paterno remains just as polarizing as ever.
That's the main takeaway from our latest reader poll. After the release of the Moulton report, and Governor Corbett's comments that he would never "condemn" Paterno, we believed it would be an opportune time to test the feelings of our readers.
After a long and storied career coaching at Penn State, Paterno was fired when it was revealed he had been informed at least once about Sandusky's actions yet never contacted the state police.
Since then, JoePa has become a divisive figure with many stridently defending him.
According to our results, though, about 54%, or 455 respondents disapprove of Paterno's conduct in the Sandusky case.
Still, 383 readers approve of his actions.
The full results are included below:
Do you approve of Joe Paterno's conduct concerning the Jerry Sandusky scandal?

Loading ...