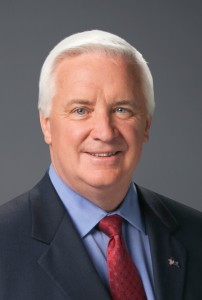 It appears that the controversy surrounding the Jerry Sandusky case will not have a large effect on this November's race for Governor.
For months Democrats had hoped some bombshell would emerge in Attorney General Kathleen Kane's investigation into Gov. Corbett's conduct in the manner. Those hopes, though, were seemingly dashed when reports began to emerge that the report would contain few, if any, damning revelations.
Given the dichotomy between this news and the perception that Corbett's involvement could cost him the votes of PSU loyalists, we decided to test this notion by asking whether the Governor's handling of the case would have any affect at all on our readers' ballots.
297 readers said that it would not affect them but that they were still going to vote against the Governor. Meanwhile, 268 said the scandal would affect their vote and they would not support Gov. Corbett.
193 voted that the issue wouldn't affect their choice as they'll be supporting the incumbent in the fall. Therefore, about 60% of respondents said the scandal wouldn't impact their votes.
Furthermore, the episode had virtually no effect on undecided voters. 36 said it won't have an effect while only 14 responded that it would. As a result, the evidence that the Sandusky scandal could have a large impact on the Governor's race appears thin.
The full results are included below:
Will Gov. Corbett's Handling of the Sandusky Scandal Have Any Effect on Your Vote?
No but I still definitely won't vote for him (37%)
Yes and I definitely won't vote for him (33%)
No and I definitely will vote for him (24%)
I'm undecided, but it won't have an effect (4%)
I'm undecided, but it will have an effect (2%)

Loading ...