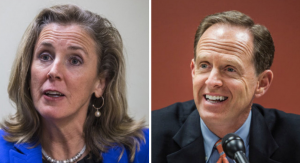 Last Tuesday, Pennsylvania's voters chose incumbent Pat Toomey and Katie McGinty as the Republican and Democratic nominees.
As a result, this is the perfect time to run our first reader survey on the contest.
Just like the presidential contest, we're going to be doing periodic polls of this race to see how (or if) it changes.
So as the month of May begins, we ask who will prevail in the Senate race.
If the PA Senate Race Was Held Today, Who Would You Vote For?
Katie McGinty (52%)
Pat Toomey (48%)

Loading ...