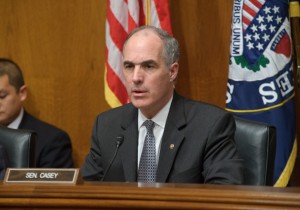 A majority of Pennsylvanians disapprove of Senator Bob Casey.
The state's senior Senator joins Tom Wolf, Kathleen Kane and the entire state legislature as those who have emerged with negative ratings from our reader polls.
A late surge of votes flipped the results 55% to 45% against the Democrat.
563 readers disapprove of Sen. Casey's track record.
469 respondents approve of Senator Casey's job performance.
The full results are included below:
Do You Approve or Disapprove of Bob Casey's Job Performance?
Disapprove (55%)
Approve (45%)

Loading ...