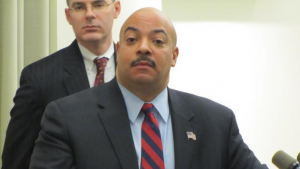 Kathleen Kane has been under fire for quite some time now (and not without reason).
Her melodrama, however, has distracted from her rivalry with Fina, which started most of the AG's problems in the first place. Perhaps because Fina was not an elected official and was much less well known, he was remained a somewhat hidden figure in this saga.
That all changed, of course, when the infamous lewd emails he sent and received were finally revealed.
Philadelphia District Attorney Seth Williams, who currently employs Fina as well as two other prosecutors involved in the email chain decided not to fire the men, sending them to sensitivity training instead.
Nevertheless, Philly NOW, all five City Councilwomen and Katie McGinty have recently called for Fina and his associates to be let go.
Given all that, we thought Fina's fate would be the perfect question to pose to our readers. So, what do you think?
Should Seth Williams Fire Frank Fina?

Loading ...