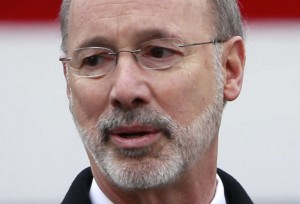 Governor Tom Wolf has been in office five months but he's already found himself in two controversies over executive appointments.
The first concerned the firing of Erik Arneson, an episode that is still ongoing in the courts.
This new issue, though, revolves around Wolf's nominee for Police Commissioner, Marcus Brown.
Brown's nomination became embroiled in a strange scandal and never really recovered.
Eventually, the Governor withdrew the nomination but the State Senate voted Brown down anyway. Yet Wolf decided to keep Brown as Acting Commissioner.
Yesterday, Gov. Wolf doubled down by proclaiming that Brown will remain as Acting Commissioner until a successor is chosen.
Of course, the State Senate isn't exactly happy that a nominee they rejected is leading Pennsylvania's police force until further notice.
So we decided to ask our readers, should Governor Wolf remove Marcus Brown from office?
Should Gov. Wolf remove Acting Police Commissioner Marcus Brown?

Loading ...