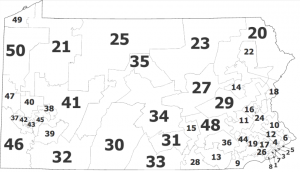 With much legislative work done for the summer and no major bills before the House or Senate, candidates and defending incumbents can focus their full efforts on winning in November. We see six competitive and exciting races.
Sen. Pippy resigned over the weekend, so now Raja and his yet-to-be-named competitor (although it is likely to be state Rep. Matt Smith) can put the pedal to the floor and really kick off their races for the election season.
And given the delay in passing new redistricting maps, the lines are staying the same. This gives Dems more opportunities this cycle than they've had in a long time. Control of the Senate stayed the same last time around — the GOP failed to pick up a single seat.
The Senate is currently split 30-20 in favor of the Rs, but Dems also have a registration advantage in all three of the open seats.
As if that wasn't enough, it's a presidential election year, so anything goes.
With that in mind, tell us readers:
What is PA's top State Senate race in 2012?
SD-37, open seat (R): Raja (R) v. TBA Democrat (likely Rep. Matt Smith) (35%)
SD-49, open seat (R): Janet Anderson (R) v. Sean Wiley (D) (19%)
SD-15, open seat (R): John McNally (R) v. Rob Teplitz (D) (17%)
SD-29: Sen. Dave Argall (R) v. Tim Seip (D) (12%)
SD-17: Sen. Daylin Leach (D) v. Charles Gehret (R) (11%)
SD-47: Sen. Elder Vogel (R) v. Kim Villella (D) (6%)

Loading ...