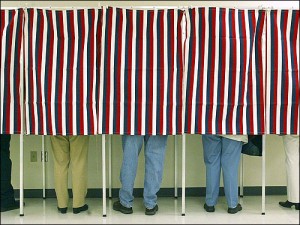 There are now just less than fifty days left until Election Day.
This leads to the question of what issue will have the biggest impact how you cast your ballot this November.
The conventional wisdom has been that, as in years past, the economy and jobs will be the most important issue to voters.
Yet several polls this year have shown that education matters more to PA voters. Governor Corbett's re-election campaign believes this to be the case, releasing a new ad last week disputing the notion that he cut education spending.
There was also a lot of speculation that health care reform (aka Obamacare) would be the central issue of the campaign. After the embarrassing website failure, however, the law has proven successful and is now barely commented on.
The last potential hot-button issue is the environment and energy. The Marcellus Shale resources have provoked a spirited debate on fracking and a severance tax and it's possible this issue could bubble to the surface.
With some many different possibilities we decided to ask you, our readers, what issue matters the most to you?
With the midterms approaching, what issue matters most to you?
Economy/Jobs (45%)
Education (26%)
Other (12%)
Environment/Energy (10%)
Healthcare (6%)

Loading ...