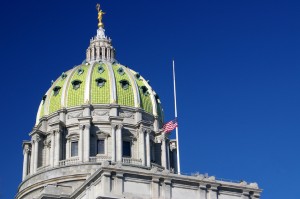 Governor Tom Corbett signed the $2.3 billion transportation funding bill last week, freeing up the General Assembly to dive into another legislative battle.
Republicans decried the tax increases and Democrats bemoaned the change in prevailing wage law, but once they are done licking their wounds, they'll have to take up another bill.
Could it be another juggernaut, like liquor privatization? or pension reform? Or will they go after socially touchy subjects, like the 20 week abortion ban? or require schools to display "In God We Trust?"
We want to know what you think, vote below.
What will be the next major legislative item for the General Assembly?
Pension reform (36%)
Liquor privatization (26%)
UPMC/Highmark resolution (16%)
"In God We Trust" requirement (11%)
20 week abortion ban (5%)
School vouchers (5%)
Electoral College changes (3%)

Loading ...