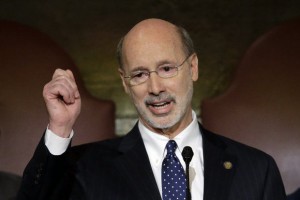 Governor Tom Corbett made delivering his budgets on time a crusade.
Despite sacrificing treasured proposals and racing to beat the clock, the ex-Gov did miss the June 30th deadline in his final year.
That was when we had an united government in Harrisburg. What will happen now under a divided government?
Apparently, Governor Wolf is not as concerned with the deadline as his predecessor and views a delay as likely.
"I'm planning on spending the summer here," Wolf told Angela Couloumbis earlier this month. "And the fall, and the winter."
Yet, as Brad Bumsted recently chronicled, Gov. Wolf's outreach to legislators has so far been much more persistent than Corbett's and could ultimately prove more effective.
Given the current situation, we decided to ask our readers when they believe a budget will finally be signed by the new Governor.
When Do You Think We'll Have a Budget Signed?
September or later (35%)
August (28%)
July (28%)
June (9%)
May (1%)

Loading ...