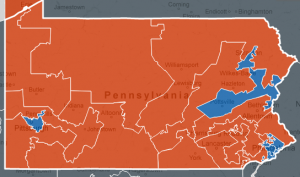 Campaigns, donors and politicos are already gearing up for next year's midterm elections, including many candidates looking to challenge congressional incumbents in the primary.
A couple of weeks ago, we asked our readers which of Pa.'s 13 GOP congressmen is most vulnerable to a primary challenge.
Now we'd like to know which Democrat you think has the most to fear from his party base.
Democrats hold a mere 5 of Pa.'s 18 congressional seats, all of which are in or near the cities of Pittsburgh, Philadelphia or the Scranton/Wilkes-Barre area.
Four Democrats, excluding Allyson Schwartz (who is running for Governor), are poised to seek another term.
With these districts likely to stay blue next year, some members of Congress could face a challenge on their left flank.
Vote here:
Which Democrat is most vulnerable to a primary challenge?
PA-17: Matt Cartwright (D-Lackawanna) (54%)
PA-14: Mike Doyle (D-Allegheny) (25%)
PA-1: Bob Brady (D-Phila) (13%)
PA-2: Chaka Fattah (D-Phila) (9%)

Loading ...