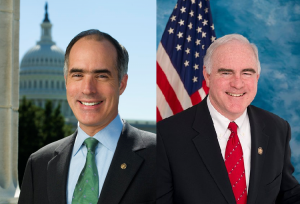 2018 is set to see several high-profile elections, chief among them the Governor's contest.
That race, however, has somewhat obscured another major race.
Bob Casey will be seeking his third term in the Senate while the GOP is looking for their nominee. Speaking of which, we recently learned that Congressman Pat Meehan is weighing a bid.
Rep. Meehan has done a solid job winning four terms in a competitive Congressional seat in the Southeastern part of the commonwealth. As a result, he could be a formidable opponent for the incumbent.
We leave the question up to you readers.
Who Do You Think Would Win A 2018 Senate Contest Between Bob Casey and Pat Meehan?
Pat Meehan (50%)
Bob Casey (50%)

Loading ...