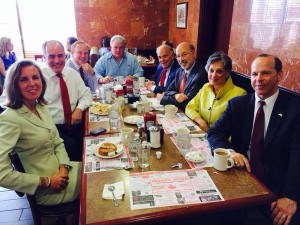 When you capture your party's nomination for the state's top job, you officially become the state's party leader. At least, that's the message Democratic gubernatorial nominee Tom Wolf is sending.
Last Wednesday, it was revealed that former DEP Secretary and gubernatorial candidate Katie McGinty was running for state party chair. Not only that, but she was encouraged to do so by her former Rendell cabinet mate, and new Democratic nominee for Governor, Tom Wolf.
Yet current party chairman Jim Burn is pledging to fight on and has so far refused Wolf's request to step aside.
Wolf began to furiously lobby for McGinty behind the scenes while many, include his running mate Lt. Gov. nominee Mike Stack, chose not to endorse either candidate.
So, with the decisive committee meeting coming up this weekend we decided to ask you our readers, who should the Democrats nominate as their party chair?
Who Should the Democratic Party Nominate as Committee Chair?
Jim Burn (75%)
Katie McGinty (25%)

Loading ...