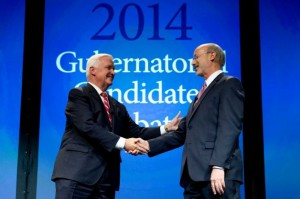 Well, the first of three debates between Governor Tom Corbett and former Revenue Secretary Tom Wolf is in the books.
Of course, beneath all the policy discussions there is one question every journalist, pundit and voter (yes you too) is dying to know.
Who won?
The general consensus seems to be that the incumbent was more fiery and on-message. On the other hand, Wolf was more mellow and measured.
Now, you can paint this two different ways (and the campaigns certainly have). You can say "Prosecutor Tom Corbett" mopped the floor with "Professor Tom Wolf" or you can say Wolf provided a breath of fresh air by proving he truly is not a politician but rather an expert at getting things done.
What matters most to us, however, is what you thought.
So, dear readers, who do you think won the first gubernatorial debate?
Who Won the First Gubernatorial Debate?
Tom Corbett (73%)
Tom Wolf (27%)

Loading ...