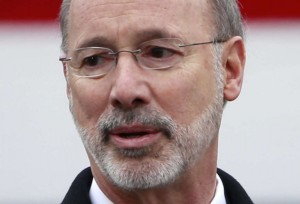 2015 is quickly turning into a terrible year for Pennsylvania Democrats.
Coming off the tough 2014 elections, the Dems hoped this year they could turns things around.
One event after another, though, has made that impossible.
First, State Treasurer Rob McCord suddenly resigned and pleaded guilty to extortion charges.
Then, the FBI raided the offices of the Mayor of Allentown and Reading in cases that appear to be connected.
Finally, Attorney General Kathleen Kane is still in the midst of her own saga.
At this point, the cumulative effect of all these scandals threaten to tarnish the state's whole Democratic Party. Of course, as Governor and leader of the PA Dems, Tom Wolf stands to lose the most if that happens.
We decided to leave the question up to you.
Will Democratic Scandals Hurt the Wolf Administration?

Loading ...