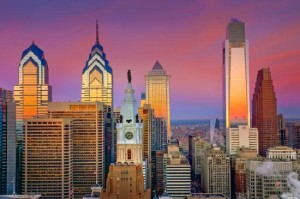 In the quiet "dog days of August", it has surpassed the Governor's race and all other electoral contests as the biggest question on PA politicos' minds.
Will Philadelphia land the quadrennial event that will nominate the Democratic Party's next candidate for President?
The political leaders of the City of Brotherly Love will take DNC officials on a tour this week to convince them to select Philly. Meanwhile, reports suggest that Philadelphia currently has the inside track in the competition and even the city's Republican Party supports the effort.
We first examined Philadelphia's chances a few months ago when the birthplace of the American Revolution was named a finalist.
Of course, a decision remains months away and four other cities are competing to host the event (Birmingham, Alabama; Brooklyn, New York; Columbus, Ohio and Phoenix, Arizona).
In the mean time, we decided to ask you our readers, do you think Philadelphia will win the bid to host the 2016 Democratic National Convention?
Will Philadelphia Win Their Bid to Host the 2016 Democratic National Convention?

Loading ...