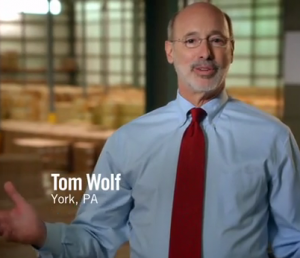 The Democratic primary for Governor has seemingly reach a turning point with an avalanche of mud being slung in the direction of front-runner Tom Wolf.
In the last few weeks, Rep. Allyson Schwartz has attacked Wolf over his $10 million loan, his treatment of employees and even plagiarism on his website.
Meanwhile, State Treasurer Rob McCord has launched a two-prong drive against Wolf. First, he criticized Wolf for making some of his kitchen cabinets out of state and then more significantly, for his judgment in standing by Charles Robertson. This subject became so heated over the weekend that former Governor Rendell called out McCord, only for the candidate to double down with his own press conference.
With missives from two separate campaigns it seems pertinent to ask, will Wolf respond in kind?
So far, his polling numbers haven't been affected but that could always change. In addition, the press is already beginning to create a narrative that Wolf is perhaps "too nice" to succeed. McCord and Schwartz each have vulnerabilities that Wolf could hit on and it is understandable that someone subject to such scrutiny would want to strike back.
The Democratic front-runner so far, though, appears to be a cool individual not prone to going on the attack yet he hasn't exactly been in the spotlight long or faced this type of heat.
So what do you, our readers, think? Will Tom Wolf go negative?
When Should The Special Elections For The PA House Be Held?
May 16, 2023 (Primary Day) (51%)
March, 2023 (47%)
April, 2023 (2%)

Loading ...