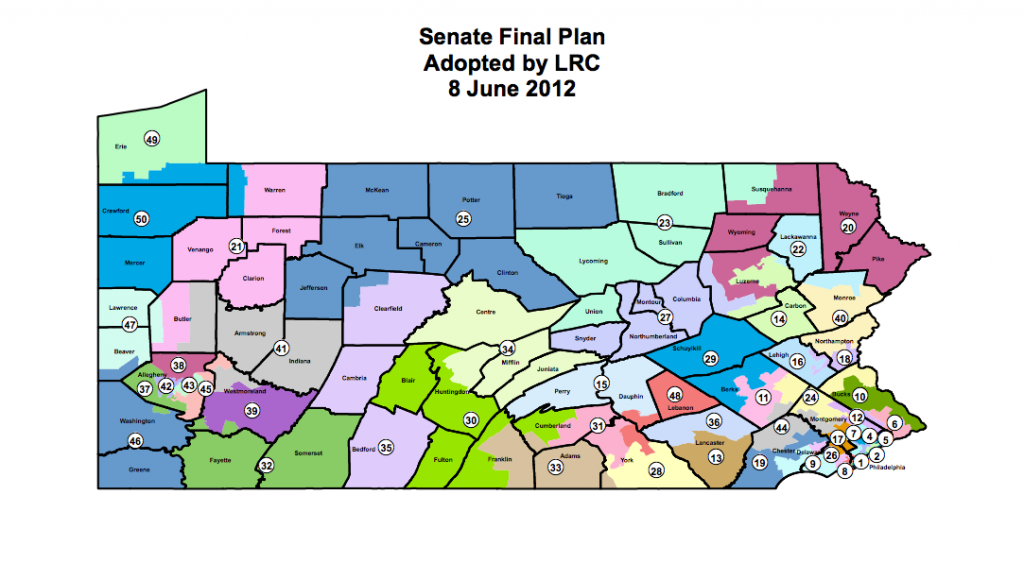 The panel charged with redrawing state House and Senate maps passed its final plan Friday, voting 4-1 to in favor of those submitted by Republican members. It's the second time the Legislative Reapportionment Commission sent a proposal to the PA Supreme Court for approval; its initial maps were rejected by the Court.
You can view high-resolution versions of the House map here (PDF) and the Senate map here (PDF).
Sen. Dominic Pileggi (R-Delaware) and Rep. Mike Turzai (R-Allegheny) boasted that their versions of the maps reduced municipal splits and respected partisan precedent. While Rep. Frank Dermody (D-Allegheny) agreed that the House map was sufficient, Sen. Jay Costa (D-Allegheny) vocally disagreed, and charged the LRC with blatant partisanship.
The Senate map moves SD-40, the former seat of Jane Orie, to Monroe County. Or so the supporters of the plan said; in reality, Jim Ferlo's 38th district moved into the Orie seat vacuum and became far more conservative.
Republican Raja won the SD-37 primary but had been drawn out of the initial proposal; this map restores his home in Mt. Lebanon to his district. Democratic write-in candidate Greg Parks was likewise returned to the district.
That district more than any other caused consternation at the hearing. Costa charged bias, and said there was a more equitable way to shuffle the southwest districts to accommodate Raja and Parks.
"At the end of the day, all we're doing is substuting the number 40 for the number 38," he said. "Democrats have a 1 million voter advantage, but this map would continue Republican dominance in the Senate."
Pileggi spokesman Erik Arneson defended the changes, citing democgraphic necessity.
"When you pull the 37th down to cover Raja and Parks, by necessity, you have to move other districts," he said. "Somebody's got to represent the North Hills."
Dr. Sharon Brown, the newly minted candidate for the August 7 special election for Orie's former seat, said she was disappointed that it would be moving to northeast PA.
"I'm disappointed, obviously," she said. "I like the other plan; the plan Sen. Costa presented."
Costa proposed his own version of the map that would have made 10 fewer county splits; it also would have left Parks out of the 37th district, and moved Brown into it.
Similar to SD-40, Democrat Rob Teplitz successfully lobbied to return the city of Harrisburg to the 15th district where he won his primary. The seat now comprises most of Dauphin County and all of Perry – an uphill challenge for any Dem in the future. His opponent is attorney and former Dauphin GOP Chair John McNally.
Neither SD-40 nor SD-15 will be affected during the current election cycle.
Turzai defended Chairman Stephen McEwen from what he perceived to be a slight from Costa.
"To suggest that the committee chair was anything but neutral is not fair by my colleague. On many issues we negotiated though, he heard both sides. We didn't always agree with his decisions, but he was fair."
Thanking Turzai, though not exactly validating his point, McEwen said he said light-heartedly, "I only wish I lived in your district so I could vote for you."
The House map, which Dermody and Turzai had successfully negotiated, underwent only a few minor changes. Rep. Bud George's (D) Clearfield County seat will move to Chester County as previously agreed. The Clearfield vacuum had been split between Cambria Reps. Frank Burns and Gary Haluska, precipitating local objections. Haluska loses much of his home turf in the new version, which gives most of Cambria to Burns and gives him all of southern Clearfield.
Former Rep. Chelsa Wagner's (D) district in the South Hills of Pittsburgh is on its way to Allentown; retiring Rep. John Evans' (R-) Erie/Crawford seat will move to Berks County; retiring Rep. Ed Staback's (D) Lackawanna County seat will move slightly south to Monroe County; and former Rep. Denny O'Brien's (R-) Philaelphia seat will move to York County.
Both chambers accompished fewer municipal splits by increasing the population deviation between districts. The Senate map had only 68 splits, down from 108 in the initial version (Costa said it was still 10 too many). Deviation increased from about 4 percent to just under 8.
Critics of the map have a 30 day window to file a complaint before the Court can sign off on the maps. Costa said Friday that he and his caucus were evaluating their legal options.