By Brittany Foster and Keegan Gibson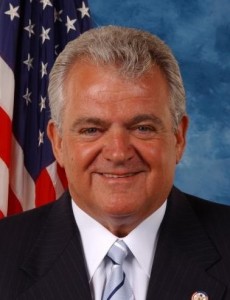 Rumors of questionable redistricting dealings have yet again found Bob Brady.
The congressman and Democratic chairman of the City of Philadelphia has been accused of working with Republicans to bolster his district and those of his Philadelphia allies.
Brady has flatly rejected the suggestion, and indicative of his clout, not one of the Harrisburg sources PoliticsPA spoke with were willing to comment on the record.
Nonetheless, the rumors abound. The consensus is that Brady is clearly a force to be reckoned with in Philadelphia and throughout the state. He has a history of crossing party lines to achieve his ends and given his reputation.
"If Brady has the chance to draw the map he will strengthen his base in the city. He will take that opportunity if it presents itself" said one Philadelphia Democratic insider familiar with goings-on in Harrisburg. And, "if [Brady's] team [of legislators] in Harrisburg votes for the Republican map, it gets very difficult for Democrats to challenge it in court."
"It's 2001 all over again," remarked a high-level Democratic staffer in Harrisburg.
After the 2000 census, many believed Brady had something to do with the 132-59 bipartisan vote in favor of the redistricting plan which, at the time, was seen as highly favorable for Republicans.
The districts of then Rep. Frank Mascara and the late Jack Murtha were merged and gerrymandered, leaving Mascara an unwinnable primary against a 28 year incumbent. Mascara lambasted Murtha and Brady for their tacit approval of the map.
Back to this year, Chris Brennan of the Philadelphia Daily News also reported on the rumors.
One senior Democratic source put it this way: "Every House Democratic leader is extremely frustrated that you have the leader of the Philadelphia Democratic Party attempting to sell out a Democratic seat just to help himself."
Denny O'Brien, a Republican from North Philly, is running for an open seat on Philadelphia's City Council which would vacate his seat in the PA House. Sources have indicated that Brady is willing to instruct his city allies to provide O'Brien enough Democratic support to guarantee a council seat. In exchange, Brady could call the shots on Philadelphia districts. According to the rumor, Brady would also put forth an easily beatable Democrat in O'Brien's current district.
O'Brien reportedly isn't aware of any deal, but will likely benefit from these rumors regardless.
As in most matters dealing with redistricting, it is nearly impossible to sort rumor from fact. In any case, observers – particularly Democrats outside of Philadelphia – will be watching closely to see how Brady's Harrisburg allies vote on the eventual plan.