Redistricting Watch: PA Legislative Maps to be Unveiled Oct. 31
By Keegan Gibson, Managing Editor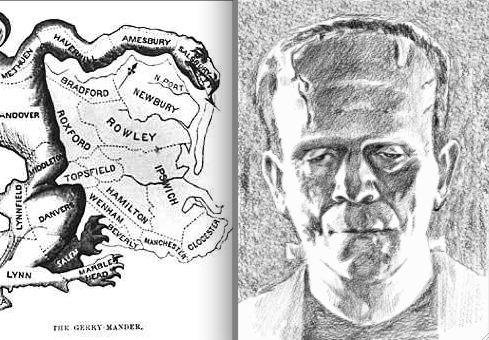 Consider Frankenstein's monster: a twisted, tortured amalgamate of parts and pieces lacking any inherent cohesion – an offense against God and man – and yet somehow, functioning.
With that in mind, perhaps it's appropriate that the new Pa. legislative maps will be unveiled on Halloween.
According to multiple sources close to the process, the Legislative Reapportionment Commission (LRC) will hold a meeting on Monday, October 31st. They are said to be planning the vote on the new district maps for the Pa. House and Senate.
"The shape of the 199th District for the next 10 years will be unveiled within a week! Stay tuned!," PA Rep. Stephen Bloom (R-Cumberland) tweeted on Saturday morning.
Several other sources confirm that the LRC is aiming for the decisive vote the 31st, and hoping to have the final version codified by mid December.
"The deadline for the Legislative Reapportionment Commission to adopt the preliminary plan for General Assembly districts is November 14. There has been interest in trying to adopt the preliminary plan sooner than that." said Erik Arneson, Communications and Policy Director for PA Sen. Majority Leader Dominic Pileggi.
The LRC consists of five voting members: each of the four caucus leaders and Chairman Stephen McEwen, a retired judge on the PA Superior Court who ran on the Republican ticket. Three of the four caucus leaders – Jay Costa (D), Mike Turzai (R-) and Frank Dermody (D) – hail from western PA. Only Pileggi (R-Dealware) hails from the east. That might serve to blunt the the impact of sharp population declines in the region.
Some of the prevalent conversations suggest that the map will pull one Senate districts from western PA to the east – possibly to the Poconos, possibly to south central part of the state. Others say 4 to 5 PA House districts will be likewise relocated. In any case, sources from both parties have said they believe McEwen will only support a unanimous plan and will not side with one party over the other.
The LRC has 90 days from the time of it was certified to submit the preliminary maps. The board has set a deadline of November 14th (based on the date of their first meeting, August 15th). Next, there is a 30 day period for public comment, corrections, and appeals to the Commission. After the public input is received, the LRC has 30 more days to finalize the new districts.