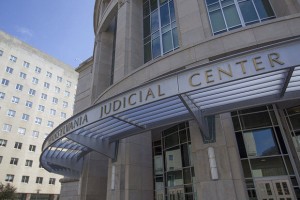 Pennsylvania's judges could get to serve longer.
On Monday, the State Senate voted 36-13 to approve a pair of bills extending the mandatory judicial retirement age from 70 to 75. Pennsylvania voters will now get to vote in a referendum on the issue this April.
Sen. Anthony Williams and Sen. John Wozniak were the only two that spoke during the debate Monday, both oppose the bill.
Williams pointed to the ongoing email scandal which has caused the resignation of one State Supreme Court Justice last year and the investigation of another as proof that judges' terms shouldn't be longer.
"These people do not represent the best of Pennsylvania," he warned. "They should not serve a day longer, but they sure as heck shouldn't receive the opportunity to serve five additional years."
Wozniak pointed out that judges only have to run once in a traditional election. After that, they are given another 10-year term through retention votes that are unopposed.
He also mentioned their high salaries and pensions. "I think 70 years of age is plenty of time to make a millionaire out of individuals," Wozniak said.
Proponents of the bill argue that the courts would benefit from an extended age limit. They believe that a more experienced judiciary will prove to be valuable.
If the age change passes in the vote, all of the Pennsylvania's approximately 1,000 judges would be affected.
The Senate's vote completed the two rounds of legislative approval that are necessary for an amendment of the State's Constitution. In 2013, the Court unanimously ruled against increasing the retirement age.