By Samantha Koch, For PoliticsPA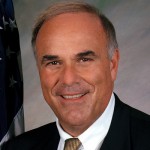 In a Daily News column that compares throwing the first ball on Opening Day to having the FBI show up to your office, former Pennsylvania Governor Ed Rendell explores the reasons why public officials should never don pitching duties.
First on the list? Fans will usually boo you.
"There was only one time I went on the field and participated in a ceremony and didn't get booed. That was in 1993 when the 'everyman Phils' made it to the World Series. I was asked to conduct the Philadelphia Orchestra in playing the national anthem. I was actually cheered, but to tell the truth, our fans were so delirious over unexpectedly being in the World Series they would have cheered Hannibal Lecter."
The booing is closely followed by politicians' inevitable fashion faux pas on the field.
"When you throw out the first ball, you must wrestle with the question, 'What will I wear?' There is no right answer. If you put on the team paraphernalia, the fans hate it… Second, rarely does an elected official look good in team clothes. We're out of shape and look anything but authentic."
And lastly, politicians are usually better at pitching public initiatives than they are at finding the catcher's mitt.
"After accepting an invitation to throw out the first ball, the politician and his or her staff will have arduous practice sessions (e.g. Martin Sheen in 'The West Wing'). It won't help! I've done it both ways—lots of practice or just going up there cold—and I have still never thrown a strike… I've tried throwing it hard and straight or rainbowing it—no difference, I sucked either way."