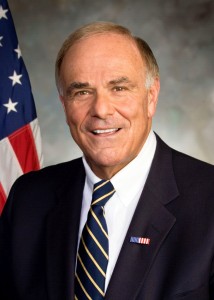 Tim Holden is getting a last-minute boost from Ed Rendell. The former Guv threw his weight behind the incumbent Congressman, saying his experience and seniority are crucial for Pennsylvania.
It's been a hard-fought primary in the 17th district, as Holden has worked to hold off challenger Matt Cartwright, an attorney from Lackawanna County, as well as about half a million dollars in PAC attacks.
"I am enthusiastically endorsing my friend Tim Holden to continue representing the state of Pennsylvania in Congress," said Rendell. "Throughout his distinguished career, he has admirably served the people of the Commonwealth as a member of Congress.
"Tim Holden's experience and seniority are crucial to the representation of Pennsylvania in the House of Representatives. Tim Holden has spent his career fighting Republican attacks on Social Security and Medicare, and older Pennsylvanians have no stronger advocate in Washington."
"It is a tremendous honor to have the endorsement of such a strong Democratic leader like Governor Rendell," said Congressman Holden in response. "I enjoyed working with the Governor during his administration, making sure Pennsylvanians had their fair share."
Holden has a wide lead in the endorsement race, but Rendell's wasn't the only big Democratic name at play in the district this weekend. Former Rep. Joe Sestak headlined a rally for Cartwright today in Easton.