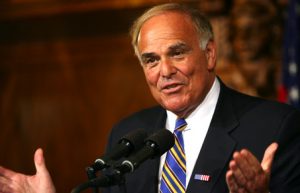 Former Pennsylvania Governor and Democratic National Committee Chairman Ed Rendell endorsed Mayor Pete Buttigieg for DNC Chair.  The new Chair will be elected by DNC members on February 23rd.  
"What impressed me most about Pete is when I read that he said that sitting back and waiting for the map and demographics to save us is not going to be enough and that we have to aggressively compete for working class voters. He is 100 percent correct, and I believe he can bring a message that will resonate in all parts of Pennsylvania and our country, in our big cities, in our small counties, in red areas and blue areas, alike," Rendell said.  
Buttigieg is the Mayor of South Bend Indiana.  He is a graduate of Harvard University and Rhodes Scholar.  He also serves in the U.S. Naval Reserve.  
Rendell's endorsement breaks from Governor Tom Wolf and Pa. Democratic Party Chair Marcel Groen's endorsement of former Labor Secretary Tom Perez.