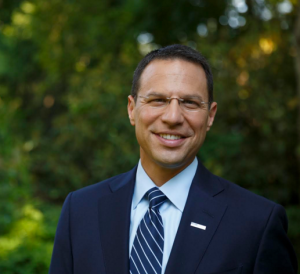 The former Governor has made a decision in the Attorney General race.
A couple weeks after the Senate hearing in which he said impeaching current AG Kathleen Kane may be the best course of action, Ed Rendell has announced he will be supporting Montgomery County Commissioner Josh Shapiro as the Democratic candidate for Attorney General.
"Josh Shapiro has a record of reform, from passing the strongest ethics reform law in generations while I served as Governor to cleaning up a fiscal mess in Montgomery County," Rendell said.
"I spent eight years as District Attorney of Philadelphia, and I know how important it is to have a strong, principled leader dealing with matters of law and order," he continued. "To me, there is no better choice than Josh Shapiro."
The Rendell endorsement helps two ways in that he is an ex-statewide and a well-known former Mayor of Philadelphia. At the moment, Shapiro is shoring up his Southeastern PA base, after sweeping most of the County Democratic endorsements this weekend.
It's been an eventful week for Shapiro, as he revealed he has $1.3 million cash on hand, and took to Pittsburgh news station KDKA to criticize his chief rivals Kathleen Kane and Allegheny County DA Stephen Zappala. Shapiro is currently trailing both in the latest Harper's poll, although 30% of those polled said they were undecided.
Zappala also took the time to respond to Rendell's show of support for Shapiro.
"We will all have our share of endorsements and this one was fully expected based on their long political relationship, but no endorsements can obscure the fact that Josh Shapiro is fundamentally flawed for this particular office," said Zappala Campaign Manager Marty Marks. "He is a full time politician and a part time lawyer who has never tried either a criminal or civil case in court. That is a glaring deficit for someone running to be the top legal representative and law enforcement officer in the state and we look forward to that debate."