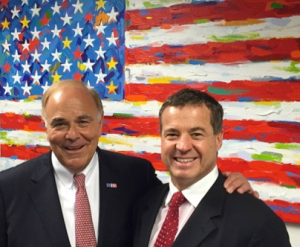 Former PA Gov. Ed Rendell continued his endorsement tour yesterday, lending his support to two candidates before next week's primaries.
Rendell is publicly backing David Wecht's campaign for the PA Supreme Court and Lisa Deeley's run for Philadelphia City Commissioner.
"David Wecht has been an outstanding judge on the Superior Court," Rendell said. "He would be an exceptional addition to the Supreme Court."
Wecht has picked up a number of endorsements recently, including one from the Pittsburgh Post-Gazette, which called him "a big believer in strong ethics and transparency" with a commitment to "curb judicial misconduct."
"I am honored to have the support of Governor Rendell, a strong leader who is not only the former District Attorney and Mayor of the great city of Philadelphia, but also the Governor of Pennsylvania and former head of the Democratic National Committee," Wecht said. "I promise to not only work hard to win a seat on the high court, but to also live up to the expectations of Gov. Rendell and so many others when I get there."
Back in Rendell's old stomping grounds, Lisa Deeley picked up the former Mayor of Philadelphia's "full support" in her bid for City Commissioner.
"Lisa Deeley was born to serve the citizens of Philadelphia," Rendell said. "She comes from a well-respected political lineage and possesses the intellect, experience and passion for public office that will serve her well as a City Commissioner."
Deeley said she was "deeply grateful" for Rendell's endorsement less than a week before Tuesday's primary.
"The Governor is an iconic political figure in the city and his support will resonate far and wide," Deeley said. "I am honored to have his support."