Rendell Fueds with Fox News
By Abhinav Parameshwar, Contributing Writer
Monday night's edition of Ed Shultz's show on MSNBC became the source of what has become a week of controversy between former Governor of Pennsylvania Ed Rendell and Fox News. (Though, in retrospect, not the biggest Ed Schultz controversy of the week). Rendell, who was speaking to Shultz about the recent New York magazine article that discussed Roger Ailes' relationship with Sarah Palin and the Republican Party, said that the article proved that Fox had lost its credibility.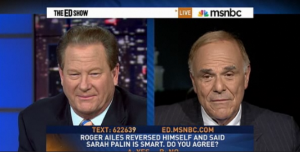 "It strips away any thin veneer of impartiality that Fox may have, simply because it admits that this was a proving ground, sort of a training ground for presidential candidates," he said. "… It really damaged their credibility," said Rendell.
Rendell also criticized Fox's hiring of so many potential candidates as analysts.
Rendell's comments did not sit well with Bill Shine, Fox News' executive vice president, who was quick to retort with a scathing response to Politico. "Governor Rendell didn't seem to have an issue with our 'credibility' or 'impartiality' when he was trying to shake us down for more money before signing with MSNBC," Shine said.
Rendell's sentiments also come in stark contrast to his opinion of Fox back in 2008, when during a heated primary campaign he lauded the network for its coverage.  "I think during this entire primary coverage, starting in Iowa and up to the present, Fox has done the fairest job, has remained the most objective of all the cable networks," Rendell told host Steve Doocy on the "Fox and Friends" show.
At the time, many observers believed Fox was giving more favorable coverage to Rendell's horse in the 2008 race, Hillary Clinton.
Watch Rendell's comments in 2008 on Fox News