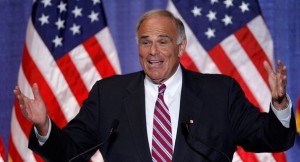 Former Pennsylvania governor and Philadelphia mayor, Ed Rendell, hosted Wednesday a networking and fundraising lunch for Democratic candidate Ken Trujillo.
The lunch, held at the Pyramid Club in Center City, presented Trujillo, a former City Solicitor under Mayor John F. Street, with the opportunity to pitch his plan to some of the area's top political donors.
Described as a "get to know you" luncheon rather than a fundraising event, Rendell co-hosted the exclusive invitation-only experience with real estate developers Walt D'Alessio and David Marshall.
Marshall, CEO of Amerimar Realty Co., has publicly favored Trujillo's candidacy and already hosted two fundraisers for Trujillo. He believes that Trujillo is "extraordinarily well-qualified."
Though Rendell has not formally endorsed Trujillo in his campaign, he referenced Trujillo in the invitation, saying that "of the entire field, the most intriguing person is someone who is not very well-known, particularly by our business community." He followed up by adding that Trujillo was "very well-qualified" and would be "an extraordinary mayor."
Trujillo is running against Lynne Abraham, former District Attorney of Philadelphia, Terry Gillen, former Director of Federal Affairs for the City of Philadelphia and former Executive Director of Philadelphia's Redevelopment Authority and Anthony H. Williams, Minority Whip of the Pennsylvania State Senate and candidate for Governor in 2010.