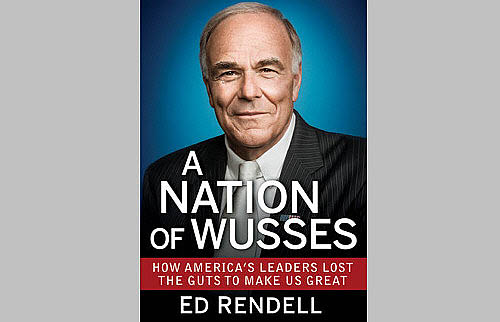 Former Governor Ed Rendell takes two things very seriously: American politics, and of course, good old fashioned American sports.
The two come together in Rendell's newly released book, A Nation of Wusses: How America's Leaders Lost the Guts to Make Us Great. The title stems from nothing other than inevitable sports frustration. In December 2010, after a Philadelphia Eagles game was cancelled for snow, Rendell notoriously commented that America had become a "nation of wusses."
Reviewers already have plenty to say on A Nation of Wusses, both complimentary and not so complimentary.
Karen Heller, an Inquirer columnist, slammed A Nation of Wusses: "This is so not Ed."
"Rendell made his reputation by speaking from his gut, which proved a gift to reporters – which we miss to this day! – when he wasn't berating us (not so missed). His temper is volcanic and his judgement is often questionable."
She even questioned his role in the work, questioning whether Rendell wrote the the book or it was "dictated."
"With a Nation of Wusses, this self-professed 'crafty politician' had time think and edit himself…The result is a feat of backslapping bromides best suited for the award banquets Rendell claimed to loathe."
She particularly criticized his omission of any comments on Pennsylvania Governor Tom Corbett.
To conclude, she called A Nation of Wusses "wussy", Rendell's worst nightmare.
Way back in early May, Chris Brennan talked Rendell and wusses.
"The book, A Nation of Wusses: How America's Leaders Lost the Guts to Make Us Great, is classic Rendell. He marvels at his own clever political instincts, complains about the attention of the media and waxes on issues he holds dear, such as investing in the nation's infrastructure of roads and bridges."
"No Rendell book would be complete without a few bawdy bits. He introduces us to "Swifty," a [very randy] donkey donated by a union to the Democratic Party when Rendell was national chairman in 2000."
Brennan, like Heller, called the anti-wuss a wuss himself: "In a very wussie-like move, Rendell admits he could not anger the union by firing Swift so he exiled the donkey to fringes of the Democratic National Convention in Los Angeles that year."
James O'Toole said the book was on the lighter side.
"But this book is not a deep dive into political theory. Rather, it is a light stew of anecdote and sound-bite-size arguments on how the nation can shake off its seeming inability to confront chronic problems."
"Mr. Rendell proves so enamored of the term that won so much attention after the aborted Eagles game, that he repeats it, in one form or another, again, and again, and again, throughout the memoir."
O'Toole had enough of this excessive use of "wuss" terms: "OK, Ed, we get it."
While Publisher Weekly's Mel Brook found some of Rendell's arguments "sound", he felt that overall, A Nation of Wusses wasn't well executed.
"Former Pennsylvania governor Rendell promises big critiques and robust prescriptions in this scattered leadership manifesto and political memoir, but fails to deliver."
"Later in the book, Rendell reasonably claims that there is no greater example of the wussification of America than the growing neglect of our nation's infrastructure, but this scattershot collection of anecdotes, political autobiography, and fealty to the Clinton administration isn't the best way to make a case for improving the government's track record."
Additionally, Brook said some of Rendell's attacks were "undone by sloppiness."
Annie McCormick, a CBS News reporter, called out Rendell's seeming obsession with the Clintons.
"In fact, his love for the Clinton's and their service is mentioned throughout his memoir. For a man who is known for his charisma he seems envious of Bill Clinton's ability to work a room."
However, McCormik did contend that the memoir wasn't all work, no play.
"It's really a memoir about the 30 plus years of his life in public service…The book is speckled with fun along the way. He talks sports, impromptu stops for cheese steaks with President Clinton and a lengthy piece on the DNC's overexcited donkey."
Unlike other reviewers, Tom McGrath, Philly Post contributor, found A Nation of Wusses to be 'so Ed' and had only glowing comments to make.
"That take — not to mention language — are quintessentially Rendellian, and A Nation of Wusses is filled with plenty of funny stories and insider accounts as only Ed can tell them."
"I'm well aware that Rendell's prescription for solving our problems — essentially, government needs to be more active — is likely to turn off as many people as it will excite in these highly polarized times. But reading the book you can't help but be reminded of why Rendell has been the most powerful and dynamic Philadelphia political figure of our generation."
The reasons why Rendell was the most powerful Philadelphia political figure? Rendell's candor and passion for problem solving.
"Candor and problem solving — both of which fall under the now-quaint notion of "leadership" —  are two things decidedly lacking from our politics these days. No, Ed Rendell won't be running for president, or probably anything else in the years to come. But our country could use a few more Eds — and far fewer wusses."
Regardless of feedback, Rendell claims not to care. He told Jim Gardner with ABC News that "his book won't top any NY Times bestseller list, but he hopes some people read it and think about what he wrote."
A Nation of Wusses was released by Wiley on Monday, June 4.
You can read an excerpt of "A Nation of Wusses" here.