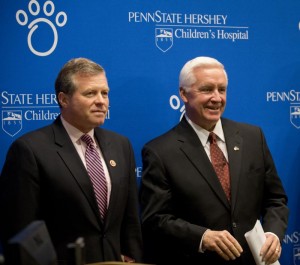 GOP Rep. Charlie Dent is running unopposed in PA-15 for his 6th term in Congress, so he is lending a hand to Governor Tom Corbett's campaign.
Consistently polling around 20 points behind Democratic Challenger Tom Wolf, the GOP incumbent will welcome any help to rally constituent support.
Dent's campaign manager, Sam Chen, will be Governor Corbett's new Northeast Central PA Regional Director. The Northeast Central region encompasses Lehigh, Northampton, Carbon, Berks, Monroe, and Schuylkill counties.
Chen, a Lehigh Valley native, has been Dent's campaign manager since April of 2013.
Prior to working for Dent, Chen was a member of U.S. Senator Pat Toomey's senatorial staff, and has consulted with several other campaigns.
Dent affirmed that, "Sam has vast campaign experience and I am excited he will be able to positively contribute to Governor Corbett's campaign for a stronger Pennsylvania."
In an interview with PoliticsPA, Chen expressed his excitement to be working for Governor Corbett.
Chen said that without an opponent in November, Congressman Dent "continues to work hard and has also been helping others get elected…that's the kind of leader he is"
When asked about Governor Corbett's poor returns at the polls, Chen stated, "The only number that makes a difference is the number on election night. Governor Corbett is the kind of leader who goes and gets the job done. He has done this for the past 3 1/2 years and when people look to his record, they will see just that."