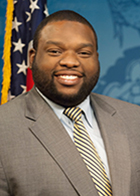 The City of Brotherly Love is known for its contentious primary battles for General Assembly seats, but one freshman Representative from Philly remains uncontested.
Representative Jordan Harris was elected in 2012 to represent the 186th House District of Philadelphia, beating a crowded primary field handily. Now, to win re-election, no Democrat or Republican surfaced to face him.
There are four other Philadelphia freshmen, all of whom are contested this year: Rep. JP Miranda (HD-197), Stephen Kinsey (HD-201), Brian Sims (HD-182) and James Clay (HD-179).
Sims will face the incumbent he beat in 2012: Babette Josephs.
Embroiled in ghost-employee allegations, JP Miranda is facing five primary challengers: Ben Ramos, Danilo Burgos, Edward Lloyd, Juan Rodriguez and Leslie Acosta.
Clay will face Jason Dawkins.*
Finally, Kinsey will battle it out against Lamont Thompson.
So, how has Harris avoided any challenges? PoliticsPA took some time to ask him over the weekend, and he insists that he's not doing anything that his colleagues are not.
"I don't think there is a reason why they do and I don't, as far as a comparison. I got lucky this go around," Harris said. "But I can say that I do try to remain very, very visible in my district; I try to make sure that everybody that come throughs my district offices doors gets high quality constituent services and I'm just focused on an agenda legislatively that I think really benefits my district."
Legislatively, he's particularly proud of the work that he's done on House Bills 808 and 809. The bills would expunge a nonviolent criminal record after seven years of good behavior and an appearance before a judge.
"One of the things that I've [spent] a lot of time with is folks who are looking to become gainfully employed but some of them have found themselves on the wrong side of the law and because of that misstep, they are locked out and shut out of employment," he said, explaining that he expects some movement on the bill during this session.
He should have plenty of time to focus on the bill since he will be one of very few legislators without any sort of opponent, but also said that it gives him time to work with his constituents and to help get other Democrats elected to the House.
"For me, I think really trying to intro legislation that addresses the issues of my constituents," he said. "Folks are watching, folks are listening and I've spent a lot of time talking to constituents about what issues matter to them."
Luckily for his Philly freshmen colleagues, if they whether the primaries, few of them will have opponents in the general; Democratic primaries are the Philadelphia battleground, since the districts strongly disfavor Republicans.
*This originally stated that Clay was running against Petri, he is not.