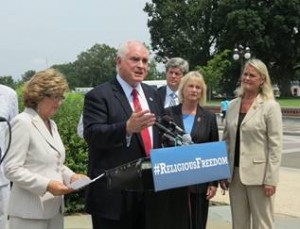 Rep. Mike Kelly (R-Butler) blasted a newly enacted Obama administration mandate requiring insurance providers to cover contraceptives for women this morning at a press conference, likening it to Pearl Harbor and the terrorist attacks of September 11, 2001.
"I know in your mind you can think of times when America was attacked. One is Dec. 7, that's Pearl Harbor day. The other is Sept. 11, and that's the day of the terrorist attack," Kelly said during a Capitol Hill press conference.
"I want you to remember August the 1st, 2012 – the attack on our religious freedom. That is a day that will live in infamy, along with those other dates."
Kelly, a fierce abortion opponent, served as the vocal leader of enraged Republicans, who have criticized the mandate since President Obama announced it earlier this year. They say the new Health and Human Services rule forces employers with a religious objection to go against their practices by providing contraception.
The Congressman's comments instantly received national media attention, including a front page spot on The Huffington Post.
Missa Eaton, Kelly's opponent in the race for PA-3, lambasted the harsh rhetoric used by the Congressman in an email and asked for an apology on behalf of the victims and families affected by the historical tragedies.
"First and foremost, Mike Kelly must absolutely apologize to the victims and families affected by the horrible attacks on Pearl Harbor and on 9/11," Eaton said.
"The comparison is ludicrous and compares foreign acts of aggression upon our nation to a piece of domestic legislation that sincerely tries to provide women with access to quality, affordable health care."
Several Democrats across the state made note of the new mandate, praising it for providing quality preventative care for women. They too had words of caution for their Republican opponents.
Democrat Manan Trivedi, who's challenging Rep. Jim Gerlach (R-Berks) in PA-6, used the opportunity to attack the incumbent Congressman for his opposition to the mandate.
"Jim Gerlach and the politicians in Congress want to insert themselves into the decisions that are best made between a woman and her doctor," Trivedi said in a press release.
"When will Jim Gerlach realize he is not qualified to make medical choices for women and he's certainly not qualified to legislate his preference to deny them health care either?"
Democrat Aryanna Strader joined Trivedi by accusing her opponent, Rep. Joe Pitts (R-Chester), of wanting to prevent women from making medical decisions usually reserved for patients and their doctors.
"Unfortunately, women's health care continues to be a target of Congressman Joe Pitts," Strader said in a press release. "The politicians in Washington like Mr. Pitts need to restrain themselves from dictating healthcare decisions that only should be made between a woman and her doctor."
Unwavering in his stance, Kelly's campaign reaffirmed his earlier statements, saying the mandate is a blatant attack on citizens' First Amendment rights.
"The (mandate) is an undeniable and unprecedented attack on Americans' First Amendment rights. Our freedoms and way of life have been under attack before, from both internal and external threats," Kelly said in an email.
"If we fail to defend our constitutional rights, we risk losing the freedoms that so many brave men and women have given their lives to defend throughout the course of our nation's history."