Rep. Mike Kelly, Independent?
By Meghan Schiller and Keegan Gibson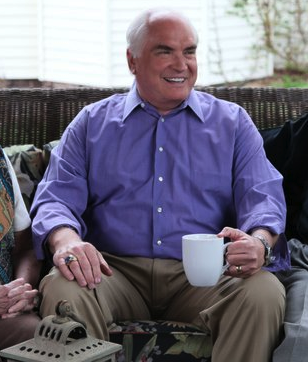 Democrats are asking Representative Mike Kelly (R-Butler) when he plans to switch parties.
The freshman Republican spoke out against recent Democratic political messaging on Medicare, saying if his party resorted to "Mediscare" tactics, he would leave the GOP.
"I really find it offensive, when you don't have a plan, absolutely no fix for what is wrong and then you … tell seniors that they're going to lose … their Medicare and Medicaid and it's all because of Republican policy — that's a flat-out lie," Kelly said. "They know it's a lie and they still put it out there and the reasoning is that's what they have to do to win the next election."
The Democratic Congressional Campaign Committee pounced, pointing to one of Kelly's 2010 campaign ads, "Will fight for seniors."
The ad says in part, "Kathy Dahlkemper betrayed us, voting for Obama and Pelosi's government take over of health care. Dahlkemper voted for Obamacare, knowing it cuts Medicare by $500 billion, and it could case seniors to lose their current Medicare plan."
"Republican, soon to be Independent, Representative Mike Kelly won his congressional seat by scaring seniors with TV ads claiming that seniors would lose their Medicare," said Josh Schwerin, Northeast Press Secretary at the Democratic Congressional Campaign Committee.
"Now that Representative Kelly has voted to end Medicare, he is hypocritically complaining about being held accountable for his voting record.  Will Mike Kelly follow through on his threat and leave the Republican party in response to his own ads meant to scare seniors?"
Both Democrats and Republicans campaign ads have argued that the other party would ultimately deny care for seniors.
In response to Rep. Paul Ryan's budget, which would make Medicare more like a voucher program, the DCCC has sent out a bevy of press releases, robocalls radio ads and emails accusing the GOP of trying to end Medicare.
"Congressman Kelly came to Washington for a cause, not a career. Part of his cause is saving Medicare for current and future generations. The Democrats have chosen to spin the issue for their 2012 election efforts instead of producing a plan to fix Medicare. Their lack of leadership during this debate has been disappointing, to say the least," said Kelly spokeswoman Julia Thornton.
"Representative Kelly is willing to discuss and debate the Democrat's plan to fix Medicare just as soon as they muster the political courage to put one forward."
The parties' competing plans may be apples and oranges, but it looks like the "Mediscare" tactic is, well, oranges and oranges.
Here's the full ad from 2010: