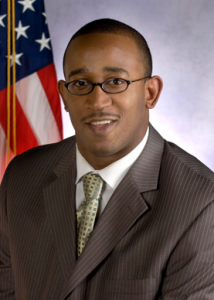 Update: Payton notes that he withdrew his petitions – the judge did not make a ruling.
State Rep. Tony Payton (D-Phila) withdrew his name from the April 24 primary ballot, after a line-by-line challenge voided over 1,600 of his 1,854 petition signatures enough signatures that Payton decided it wasn't worth the continued legal battle. He is the only incumbent Pa. lawmaker seeking re-election not to make the ballot.
James "Scoot" Clay, a Democrat, is now the only candidate on the ballot in the 179th district. A community activist, his father is an associate minister at the Second Baptist Church. His late mother, Frances, was the president of the Frankford Civic Association.
Payton was one of the youngest members of the legislature when he was elected at age 25 in 2006. He previously worked as a housing counselor at United Communities.
Reports the Daily News' Chris Brennan in PhillyClout:
The legal challenge against Payton was filed by Doris Robinson, a Democratic committeewoman in the 23rd Ward.  Payton said the challenge was spurred by her ward leader, former City Councilman Dan Savage…

Savage denied that while calling it a "disgrace" that Payton could not follow the state election code to collect at least 300 valid signatures on his petitions, the number needed to stay on the ballot.  Savage said he was supporting James Clay Jr. in his bid to challenge Payton in the primary.

Payton said a variety of problems brought down his petition signatures, including people who were not registered as Democrats, women who used their maiden names and people who didn't fill out the form correctly.

"I went to several churches," Payton said. "It turns out, a lot of people at church aren't registered or are registered Republican or with no affiliation."
Payton also took issue with Brennan's report. He said in an email to PoliticsPA:
"I did not say it was revenge or payback for anything nor did I say anything about church. The reality is the volunteers that helped circulate petitions only asked people to sign and put an address and they wrote all the dates themselves."