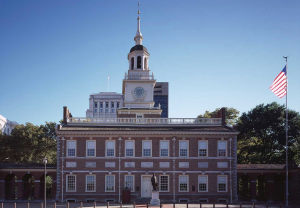 You'd be forgiven for thinking that Hillary Clinton and her campaign apparatus would fly out of Philadelphia shortly after giving her acceptance speech and closing out the Democratic National Convention on the evening of July 28th.
Anna Orson of BillyPenn, however, isn't so sure.
Apparently, the Clinton campaign has applied for and received a permit for an event at Independence National Historical Park on Friday, July 29th from 4:00 a.m. to 10:00 a.m.
It appears the Clinton team is planning a large outdoor rally to cap off the week.
After some initial questions, the Democratic Presidential nominee has signaled that she intends to fight hard for Pennsylvania's twenty electoral votes. After her Super PAC announced that they would be hitting the airwaves, the campaign signaled that they would soon join them. She also revealed her full list of state staffers to PoliticsPA this week.
The Democratic National Convention will be held in Philadelphia from July 25th to 28th.