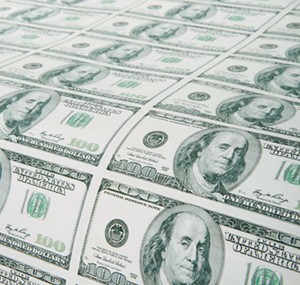 Pennsylvania Supreme Court candidates have spent $2.4 million so far on TV ads for this Tuesday's primary.
That is the conclusion of the Brennan Center for Justice and Justice at Stake, who combed through FCC records.
The highest spending has been Kevin Dougherty who has contracts out that total over $1 million. Elsewhere in the Democratic primary, David Wecht spent $440,000 while both John Foradora and Anne Lazarus expended $200,000 each.
Dwayne Woodruff and Christine Donohue don't appear to have booked any TV spots.
Over in the Republican primary, the biggest spenders are Michael George and Judy Olson. George is in for $200,000 and Olson $30,000 yet they're also sharing a $170,000 buy. Meanwhile, Anne Covey is spending $140,000 on commercials.
Correale Stevens, Cheryl Allen and Rebecca Warren haven't spent any cash on TV ads.
"The recent upswing in spending raises concerns about fundraising pressure on judicial candidates," said Alicia Bannon, Counsel at the Brennan Center for Justice at NYU School of Law. "Historically lawyers, law firms, and special interests have been major contributors to Pennsylvania judicial candidates, raising concerns about how fundraising may impact judges' decisions on the bench. We need stronger protections to insulate judges from the appearance of bias."
The record for spending in PA judicial elections is $4.6 million, which was set in 2007. If the general election continues along the lines of the primaries that mark should be eclipsed.
"Unfortunately, it looks like Pennsylvanians could be heading for an historically costly battle over three Supreme Court seats," said Bert Brandenburg, Executive Director of Justice at Stake, a nonprofit, nonpartisan group that advocates for fair courts. "The TV ad dollars are multiplying literally overnight, and this is just for the primary. The spectacle of so much spending, on top of recent scandals affecting the Court, ought to put insulating judges from money and political pressure at the top of Pennsylvania's agenda."