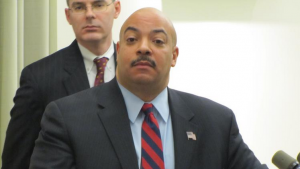 Several people throughout the commonwealth have taken issue with Philadelphia District Attorney Seth Williams lately. Specifically, Williams' decisions to not fire Frank Fina and punt on a prosecution of John Dougherty drew significant criticism.
Apparently, those feelings also existed in the DA's office and may have hurt one employee's career.
According to David Gambacorta of Philadelphia Magazine, Laurie Malone, the Deputy DA who oversaw the Pre-Trial Division, was demoted shortly after recommending that criminal charges be filed against Dougherty.
Additionally, Gambacorta reports that Malone was one of those who urged Williams to fire Fina for his involvement in the lewd email chain.
The DA's office not only denies any connection but is also asserting that there was no internal disagreement over the Dougherty case.
"There was never any disagreement within the Philadelphia District Attorney's Office about whether charges were appropriate in the Dougherty matter," they stated. "In accordance with the law, the District Attorney made no decision on the matter because of his prior relationship with Mr. Dougherty."