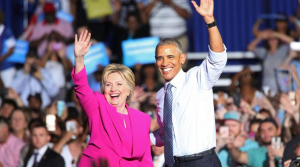 President Barack Obama will speech on Wednesday July 27th, the penultimate night of the Democratic National Convention.
That's according to a new report from the Associate Press.
This would be somewhat a break from tradition. Outgoing Presidents usually speak during the first night of the convention. Ronald Reagan and Bill Clinton both spoke that night and George W. Bush was scheduled to before Hurricane Gustav intervened.
In the past, nominees have sought to distance themselves somewhat from their predecessors. Hillary Clinton, however, has deliberately linked herself to President Obama. Speaking on back-to-back nights would further emphasize that.
There are also reports that Senator Elizabeth Warren will deliver a prime-time address on opening night instead.
The Democratic National Convention will be held in Philadelphia from July 25th to 28th.