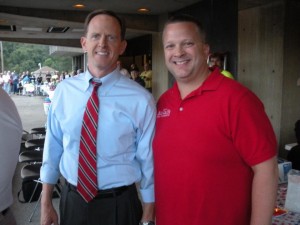 As the national debate on gun control legislation heats up, sources report Senator Pat Toomey has been in talks with Senator Joe Manchin III (D-WV) regarding Toomey's potential support for background checks in upcoming Senate proposals.
Manchin, a Democrat with an "A" rating from the National Rifle Association, hopes that Toomey's support could help convince other Republicans to support new gun control measures, specifically universal background checks.
That's according to the Washington Post, the Allentown Morning Call and Politico.
Democrats hope to find additional Republican voices in the Senate to support and co-sponsor legislation that specifically includes expanded background checks. The need for bipartisan support on new gun control legislation has increased as Sens. Rand Paul (R-KY), Ted Cruz (R-TX) and Mike Lee (R-UT) have threatened to filibuster upcoming gun control bills.
Toomey, who earlier this year hinted that he might be willing to support some new gun control legislation, is a much sought out conservative voice and has recently been the target of several new ad campaigns from the Mayors Against Illegal Guns Action Fund and VoteVets.org.
Senator Toomey faces a tough re-election in 2016 and continues to receive critical attention on his gun control policies, which includes a Tuesday rally outside his Philadelphia office from CeaseFirePA, a statewide organization that supports increased gun control with Mayor Michael Nutter and former Governor Ed Rendell.
Consideration of Toomey's policies and voting record comes amidst Senate Majority Leader Harry Reid's (D-NV) plan to introduce his gun control bill this week, which features background checks as a primary component.
Background checks have seen wide support in statewide and national polls, receiving roughly 85-90% support from voters in favor of increased checks.
Senator Toomey, who has a perfect rating from the NRA and retains clout among conservatives from his time as head of the Club for Growth, has not explicitly responded to his plans on new gun control legislation.
The only response from Toomey has come from his communications director, E.R. Anderson, who stated, "Sen. Toomey and his staff are talking to a lot of folks – both in Pennsylvania and in the Capitol – on the issue of guns in the hopes that we get an approach that works."