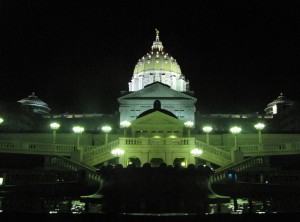 Rep. Marty Flynn (D-Scranton), and Rep. Ryan Bizzarro (D-Erie) were left unscathed a frightening encounter that included gunshots and an attempted robbery last night.
As recounted by Kevin Zwick of Capitolwire, the two Democrats spent much of Tuesday in a House session that rate late into the evening. The two freshman lawmakers then attended a colleagues' fundraiser, ate dinner and walked two female Representatives back to the Capitol.
Heading back to Midtown, the two were approached at gunpoint by two attackers around 11:00 p.m. on Herr Street, while a third watched from a vehicle according to sources close to the incident. The fourth suspect was arrested at home.
Seeking their wallets, one of the two accosters was armed. Luckily Flynn, a former Lackawanna prison guard who is licensed to carry a handgun, reached for his firearm and exchanged shots with the assailants. At this point both attackers and victims fled in different directions.
Flynn and Bizzarro ran back to their residence where they immediately called 911.
In a statement released by the House Democratic office, Flynn declared "We are used to fighting for the people in our districts every day. We certainly are going to stand up for ourselves and not become victims."
Bizzarro gave effusive praise to the Harrisburg Police for their response, saying "We were extremely impressed by the professional manner in which the Harrisburg police officers responded to our call."