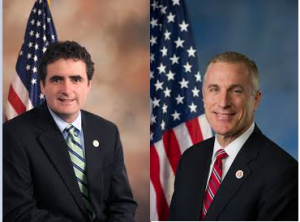 Rep. Tim Murphy, who has a PhD from the University of Pittsburgh, has investigated the allocation of federal funds toward mental health programs since the tragic Sandy Hook shooting in Newtown, CT.
Through the House Energy and Commerce Subcommittee on Oversight and Investigations, Congressman Murphy discovered that the federal government spends $125 billion per year on "mental health," however most of those resources are not directed toward the most serious mental health illness such as schizophrenia, bipolar disorder, and severe depression.
Finding many areas in need of improvement, congressman Murphy introduced the bipartisan Helping Families in Mental Health Crisis Act [H.R. 3717], and Rep. Mike Fitzpatrick (PA-8) is sponsoring the legislation.
The act focuses on delivering acute psychiatric care to those with the most serious cases of mental illness. It includes provisions to expand access to inpatient and outpatient psychiatric treatment, in addition to training for law enforcement officers and first responders concerning mental health crises. Finally, the act reauthorizes suicide prevention programs.
The two representatives discussed the act in a conference call today with Bucks County Commissioner Diane Marseglia, and members of the Bucks County Suicide Task Force.
According to Murphy, "the federal government's approach to mental health has been a chaotic patchwork of antiquated programs and ineffective policies across numerous agencies. Sadly, patients end up in the criminal justice system or on the streets because services are not available."
Congressman Fitzpatrick affirmed in that call that the country's mental health system is in need of a comprehensive overhaul.
"Broken is an appropriate designation for our mental health system…we have millions of Americans who suffer from mental illness and many of their families are without the appropriate support systems. I try to be a legislator, as does Rep. Murphy, that works on both sides of the aisle to work on fixing the mental health system in the United States," stated Rep. Fitzpatrick.
The proposed act has gained much attention across the nation, and many are in favor of Congressman Murphy's efforts.
The Wall Street Journal Editors wrote that, "the alternative is Vice President Joe Biden's proposal to throw another $100 million willy-nilly at a failed system. All the money in the world won't help the mentally ill if it isn't getting to them or is squandered on ineffective treatments. The Murphy bill is an informed attempt to overhaul a broken system. It might even prevent the next Newtown."
Eight other Pennsylvania GOP representatives are co-sponsoring the bill, including Reps Glenn Thompson (PA-5), Patrick Meehan (PA-7), Bill Shuster (PA-9), Mike Kelly (PA-3), Jim Gerlach (PA- 6), Charles Dent (PA-15), and Keith Rothfus (PA-12). Rep. Michael Doyle (PA-14) is the lone Democratic sponsor from Pennsylvania.