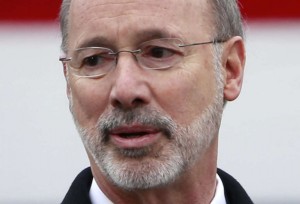 Republicans are accusing Gov. Tom Wolf of breaking a campaign promise.
In the last few days, the Governor has revealed some of the details of his upcoming budget address.
As KDKA's Jon Delano reported, this will involve a mix of tax hikes and tax cuts.
One of the increases is reported to be bumping the state sales tax up from 6% to 6.6% and expanding said tax to cover clothing and professional services.
This has the Republican Party of Pennsylvania up in arms alleging that Wolf is flip-flopping from his stance during his 2014 gubernatorial campaign.
"Governor Wolf is breaking his promise to voters not to raise the sales tax after less than two months in office," Republican Party of PA Communications Director Megan Sweeney said.
"Throughout the course of his campaign, Governor Wolf gave very few specifics about his plans for Pennsylvania but clearly portrayed himself as an opponent of raising the sales tax, only to break his promise to the voters with this first major act."
Citing a July 2014 report from the Associated Press, state Republicans point out that Wolf said he did not support an increase in sales tax because he felt like the burden fell on low-income consumers.
"Does Governor Tom Wolf still believe that raising the sales tax would disproportionately hurt lower-income Pennsylvania like he said in July?" Sweeney said.
"When did Governor Wolf decide to admit his support for drastically raising the sales tax?"
Wolf will officially propose his first budget as Governor next Tuesday in front of the State Legislature. Of course, whatever he proposes will require legislative support from Republicans who hold the majority in both the State House and Senate.