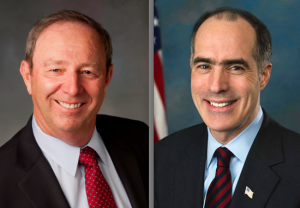 Almost every Republican official and candidate reacted to today's jobs numbers – a mere 80,000 added in June and unemployment unchanged at 8.2 percent – with criticism of President Obama. In case you don't have time to read them all, we've blended them into one super-response.
"Like all Americans, I am deeply concerned about the anemic job growth rate this summer. Under President Obama's economic and regulatory policies, the unemployment remains over 8 percent. Obamacare's devastating tax burden, the soon to expire tax cuts, and increasing federal regulatory overreach will only continue to hurt job creation. Real change is coming, and on November 6 voters in [my district] and across the country will have the opportunity to reinvigorate the American economy by rejecting the Obama-[my opponent] agenda and electing new (Republican) leaders," said literally almost every Republican.
Tom Smith's campaign highlighted this Politico interview with his opponent, Sen. Bob Casey, conducted just before the numbers were released.
"If we have a report that is similar to last month's, that would be a cause of great concern," Democratic Sen. Bob Casey, who's up for reelection and will campaign with Obama in Pittsburgh on Friday, told POLITICO in a phone interview. In May, the unemployment rate was 8.2 percent, up from 8.1 percent a month earlier, and the economy added a measly 69,000 jobs.

"Sometimes the debate in Washington gets too focused on one month's reports," he added, "but if there is a trend or even a perception of a trend, that can be pretty damaging."
"Today's disappointing jobs report reinforces the growing frustration the hardworking American people have with career politicians in Washington," said Smith. "For more than 40 consecutive months, the Obama-Casey agenda has left the economy mired in unemployment higher than 8%.
Casey issued his own statement, reiterating that recovery is happening, but not fast enough.
"We still have more work to do to recover from our losses during the Great Recession. Washington must continue to do everything possible to strengthen the economy and help unemployed Americans get back to work," he said.
Aside Casey and one other candidate, here's an amalgamation of Democratic responses to the June numbers:
…