Rizzo Won't Run for Mayor of Philly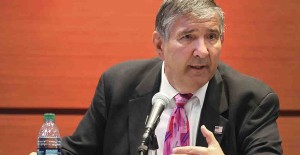 In a bit of a surprise, former City Councilman Frank Rizzo Jr. announced today he will not run for Mayor of Philadelphia next year.
According to Chris Brennan of the Daily News, Rizzo will instead seek a return to the City Council.
Frank Rizzo Jr. served four terms on the City Council as a Republican until he was defeated in the 2011 primary.
Last year, with the guidance of Rep. Bob Brady, Rizzo Jr. switched parties. It was predicted that this move signaled a mayoral candidacy. Now, however, he will run for the Council as a Democrat.
The 71-year old is the son of Frank Rizzo Sr. who infamously served as Police Commissioner from 1968 to 1971 and Philadelphia Mayor from 1972 to 1990.
Among the Democratic candidates who have announced their mayoral campaigns are State Senator Anthony Williams, former District Attorney Lynne Abraham, former City Solicitor Ken Trujillo and the former head of the Redevelopment Authority Terry Gillen.